Authenticity is paramount when it comes to luxury goods, especially in fashion. This feature influences both the brand's reputation and the perceived worth of the product. However, verifying the authenticity can be complex. But Arianee — a leading web3 consumer engagement platform for brands founded in 2017, works on solving these issues.
In our visit as part of the Paris Business Mission, we were received at Arianee's office, located at La Caserne. The visit provided us with deep knowledge about the company's technology. Keep reading this article to learn more!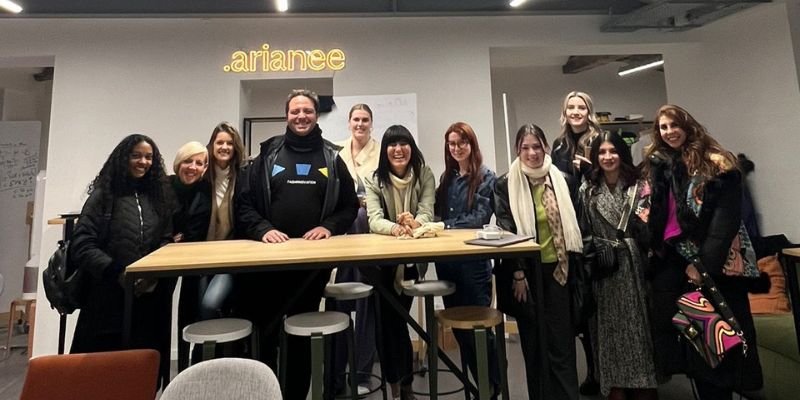 Luxury Fashion & Authenticity
Luxurious fashion companies spend a lot of money on security features like holographic tags, one-of-a-kind identifying numbers, and other security measures to guard against counterfeiting.
According to the International Chamber of Commerce report, counterfeit goods account for 3.3% of global trade, with the luxury goods industry being one of the hardest hit. Ensuring authenticity can also justify the high price point of luxury fashion items, as consumers are willing to pay a premium for genuine products.
Yves Saint Laurent (YSL) and other high-end fashion labels are renowned for their expensive merchandise. Yet, in addition to their authenticity, luxury fashion items' pricing is also influenced by the reputation of the brand, the quality of the materials, and the level of craftsmanship.
YSL Beauty wanted to acquire new customers and engage them by putting NFTs & Social tokens at the heart of new value creation. Arianee created a full web3 ecosystem to build an engagement journey where NFTs are the keys to benefits at partners (p00ls): NFT Management Platform, White-label wallet application, and a Web3 website.
What is the Decentralized Internet?
A new technology called the decentralized internet, or Web 3.0, aspires to build a more private, accessible, transparent, and secure online to foster innovation and benefit society. Decentralized internet is constructed on distributed network nodes owned and run by people and communities, as opposed to the current internet.
Decentralization encourages innovation by giving developers and business owners a level playing field. Anybody can build on top of decentralized networks using open protocols and standards, resulting in new services and applications that are advantageous to all.
Explaining Arianee
Metaverse, NFT, blockchain… Alright, some terms seem pretty crazy or very uncommon for many. But I assure you, Arianee has all the answers, and I will explain them to you.
First…
Arianee is a web3 consumer engagement platform for brands enabling them to acquire, engage and retain customers through enriched NFTs & web3.
Which means…
These certificates are stored on a blockchain, which provides a tamper-proof and transparent record of a product's history and authenticity.
And what does NFT have to do with it?
The platform uses non-fungible tokens (NFTs) to represent each certificate, which can be transferred between parties and stored in digital wallets.
What else?
Arianee's platform also includes a mobile app for consumers, which allows them to access and verify the authenticity of a product using its digital certificate. Consumers can also use the app to access additional information about the product, such as its origin, history, and sustainability credentials.
Solving Real-World Problems
Arianee is a real-world illustration of how blockchain technology and the decentralized internet might be applied to address pressing issues. The company can assist in lowering the risk of fraud and counterfeiting in the market for luxury goods by producing a tamper-proof and visible record of a product's history and authenticity.
Moreover, Arianee is also helping to create a more sustainable and transparent supply chain. By providing consumers with access to information about a product's origin, history, and sustainability credentials, the company can promote greater transparency and accountability in the luxury goods market.
To Sum Up
Finally, Arianee's blockchain technology transforms the luxury goods sector. By providing luxury brands with tamper-proof records of a product's authenticity and history, the company ensures that customers receive genuine goods while allowing luxury brands to maintain their worth and reputation.
Want know more about the Fashion World? Fashinnovation!