As an industry, fashion goes long way back. What started as a mere necessity — the formality of dressing and being presentable — turned into a way of expression, the means through which people communicate to their surroundings. Thus, fashion's ability to respond to the ever-changing market is what allowed the industry to establish economic and cultural relevance in today's society. Currently, the fashion industry is one of the biggest and fastest growing industries in the world. It was an estimated value of 400 billion dollars. But, has it achieved to progress? While it is true that the fashion industry has grown the world's economy faster than many other industries, it is the second most polluting industry in the world. It's quick response in manufacturing, operating under a quantity instead of quality method, produces 1.5 billions new pieces of clothing every year on average (The Ugly Truth of Fast Fashion, 00:11:25 – 00:13:15). Not to mention that around 80% of leather worldwide is tanned using chrome, a highly toxic process that results in a significant toxic waste being released into waterways, and serious harm to industrial tannery workers (Edwards, 2016). The ability to mass produce luxury trends at low prices and with no restrictions has created more negative externalities than what its profitability could account for. The narratives through which fashion has been described focuses only on mass production and innovations and its time to make a difference.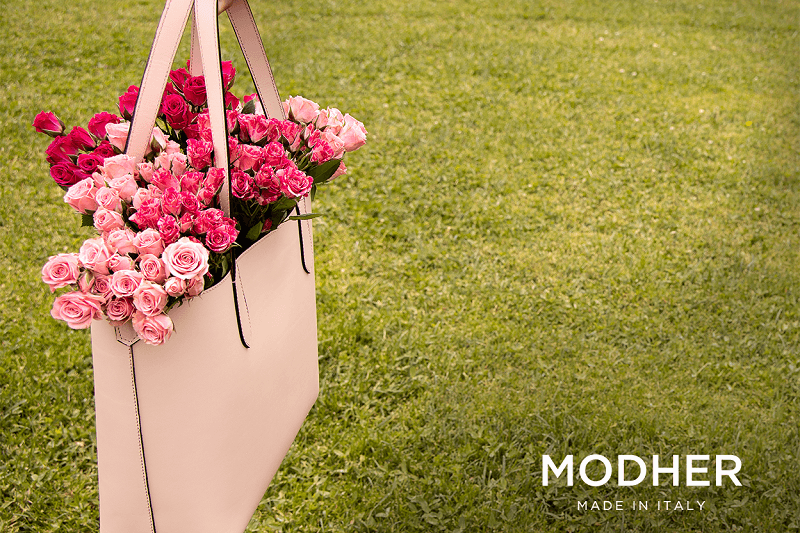 (Image from Voyage LA)
Modher, for that matter, sheds light on the importance and possibility to make the future of fashion a more sustainable one. It is a an Italian designer handbag brand based in San Francisco, whose mission is to keep the carbon footprints of leather craftsmanship as low as possible while at the same time producing luxurious handbags and accessories. They exclusively work with suppliers from small family-owned companies who follow the Italian leather tradition and whose procedure cycles are strictly monitored and ensure the lowest impact to the environment. The substances they use for the process are recovered, recycled and reused, transforming them into agricultural fertilizer or bricks for construction, giving their process more purpose and less waist. Most importantly, Modher is not only committed to reduce the carbon contamination from the processes of craftsmanship of luxury goods, but from the entire production chain of the meat and dairy industry. No animal is killed in the making of their products, instead they turned use the leather that would otherwise be discarded by the food industry. Modger turns what once was considered waste into a beautiful, long lasting, luxury handbag. Plus, their packagings are shipped inside a 100% cotton dust bags and recycled gift cardboard and chlorine-free paper and they use USA carbon neutral shipments to avoid further contamination. Transforming the entire shopping experience into a more conscious and sustainable one.
(Image from Voyage LA)
Behind the brand is Gianna Caravello, an Italian fashion designer. Embedded with art, tradition and culture, she looked for ways through which her designs could complement and reflect the values and inspirations of the Italian Imagery. "I soon realized how our choices in clothing and accessories communicate both explicit and implicit messages, particular meanings are dependent on context, culture, and wearer" (Caravello, 2019). She pursued a Master's degree in design in Milan and started her career as an interior designer eventually she started working as a digital designer and it wasn't until moves to San Francisco that she decided to start her career from scratch and focus on what she was really passionate about — fashion. Now, her brand not only represents her personality, culture and artistic development but the meaningful development of a career that seeks to nurture sustainability and art. "The path is still long, I am only at the beginning of it, but as I did so far, I will try to use any struggle as an opportunity to improve."
For more information about the brand visit: https://www.modher.com/pages/aboutus
* Writer by Bernarda Chiriboga