Scaling up your business is an integral part of the growth strategy. It is essential that entrepreneurs are ready and can manage the growth of their companies. Because if your business grows too fast with no plan, you could be subject to unwanted risks, such as the inability to serve your customers, and of course, you don't want to be caught with your pants down.
A company that is scaling up is Modern natured.
Modern Natured is a company that started offering waist beads, hair, and beauty products to American customers. The reception of the products was great, in particular the waist beads. Even though the business is relatively young, founder Emma Okyere has the ambition to scale up.
The founder took her brand to the next level by going to Miami Swim Week 2022 as an accessory designer. This experience and achievement motivated Emma to create the beaded couture fashion brand to expand the business. The Genesis Collection debuted on the runway at the Galerie Bourbon during Paris Fashion Week (PFW) 2022.
Let's have a closer look at Modern Natured's scaling-up journey.
What are Waist Beads?
Waist beads are mentioned a lot in this blog, but what are they exactly? Modern Natured's waist beads are beautiful body accessories in various colors and patterns. Check this blog for a detailed breakdown. However, in short, Modern Natured's handmade, traditional Ghanaian waist beads are made with glass beads and classic Ghanaian thread that are tied on and can't be removed once tied.
The Importance of Brand Collaboration
Modern Natured is no stranger to collaborations. Their first collaboration was with singer Ama Ka'rin for the "Ama Ka'rin Waist Beads Collection." The singer's aesthetic embraces sensuality and glamour. Modern Natured aims to make customers embrace their bodies by wearing waist beads. Therefore this collaboration was organic, and most importantly, the values of both parties aligned.
Modern Natured debuted on the runway through their collaboration with avant-garde fashion incubator Flying Solo. They give independent designers the opportunity for retail presence at their luxury boutiques in Soho.
Moreover, they support independent designers in showing their collections during Fashion Week In addition, the company brings various fashion designers, accessory designers, shoe designers, and fashion models together to create a successful fashion show. During Miami Swim Week, Modern Natured collaborated with Kanawa, Zoelle BYBS, Meredith Ashley, Cyar, Peach Plie, Audrey Monae, Cordee Cases, Surturban, Michael Bailey, Hott Commodity Eyewear, and Ash Hoffman.
Going to Miami Swim Week 2022 paid off for Modern Natured since the brand got great exposure to a broader audience. Modern Natured got the chance to show their collection during PFW; Emma took the opportunity with both hands and brought a team with her for support.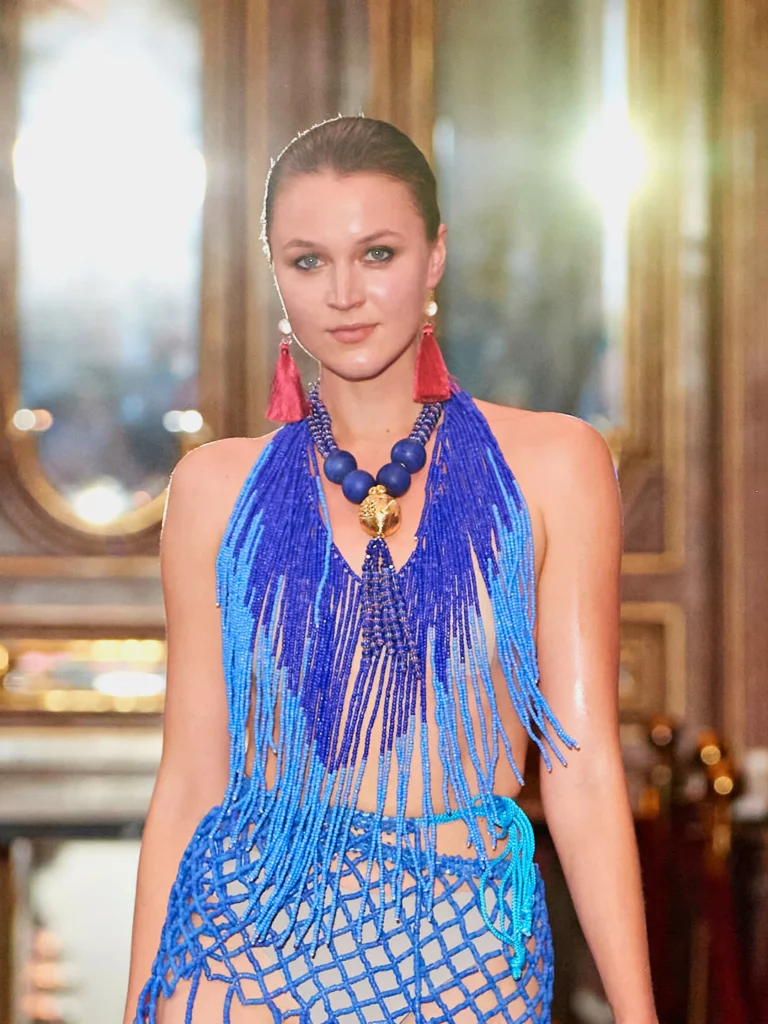 Paris Fashion Week (PFW) 2022
The Fashion Show took place in La Galerie Bourbon in Paris. The venue is beautifully and classically Parisian. It's also very close to the historic Arc de Triomphe and The Champs Elysées. During PFW, Modern Natured debuted its first beaded couture fashion collection.
The Genesis collection displayed eight looks of their innovative beaded couture, woven kente cropped hoodies, beautiful glass neck pieces, and leather fringes on a wooden collar. Modern Natured's beaded couture is handmade, consisting of various Ghanaian jewels and recycled glass beads used to make beautiful clothing pieces and jewelry.
This infusion of traditional African beading methods and futuristic engineered beaded patterns and designs. Modern Natured collaborated with Material Maya, Desert Jewelry, Hautelifeworld Eyewear, and Dante shoes during the fashion show. The collaboration was perfect, and all the models looked stunning. In addition, various critically acclaimed fashion media outlets covered the fashion show, including Harper's Bazaar, Vanity Fair, Elle, and many more.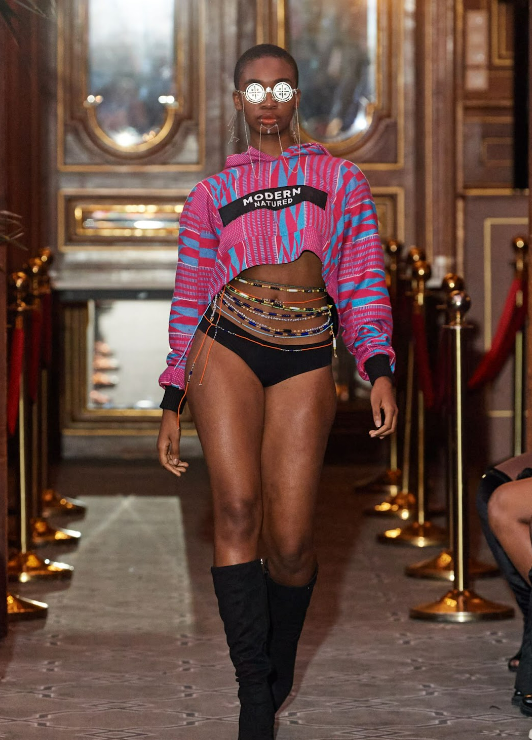 Beyond the Beads
Modern Natured's ability to scale up is because the founder is not afraid to take risks. Starting with waist beads, the founder has delved into fashion design. Notably, she didn't forget the brand's core values, as her waist beads are integral to all her designs.
The road to the collection wasn't a walk in the park, but the finished product was fantastic and very rewarding. Taking risks can give you great rewards as a business owner. However, it would be best if you would not take unreasonable risks. Every decision needs to be carefully assessed, and if the reward outweighs the disadvantage, why not go for it?
Moreover, the collaborations also played a part in the growth journey of Modern Natured. If opportunities are presented to you, don't be afraid to take them. As a small business owner, it is a huge opportunity to be exposed to a new audience, and to be featured in various media outlets is very positive for the branding of your business. Most importantly, don't forget your company's core values because you don't want to be a fashion victim.
Check out Modern Natured "Genesis Collection" here.
Like this article? Then you must read this one: We Just Conducted Research on Brand Positioning: Learn How It Can Help Your Business Grow.
* Written by Modern Natured's Team
Editor's Note: The opinions expressed here by Fashinnovation's columnists are their own, not those of Fashinnovation.