Have you ever wondered how you can wear suits for all seasons?
It's been a few months since the summer heat faded, and most of us packed away our swimwear until next season. The chillier fall weather has brought out cozy sweaters, layers, and for many, the realization that you'll need to shop for new pieces to supplement your wardrobe.
But what if, in the midst of a culture of fast fashion, you want to invest in something classic or repurpose something you already own? What if you want quality pieces that last longer than one season and give versatility to your wardrobe? How can you lengthen the life of your clothing and get more bang for your buck? Your answer might just be packed away.
Swimsuits as apparel may not be a new concept, but it is certainly an underutilized tool in most closets. Turn summer investments into fall staples by layering up your swimsuits this fall & winter. A one-piece becomes the perfect body suit. A cover-up, with the proper styling, transitions into a fall-appropriate dress. Our recommendation? Wear your favorites all year round.
While some might consider their swimsuits as summer-only apparel, brands like Elspiri Swim have shown us otherwise and prove to be design pieces that can seamlessly transition from poolside to the wardrobe. Elspiri swimsuits are designed to transcend seasons and trends with high-quality, classic cuts that come in bright colors that embrace all skin tones.
Versatility and adjustability are central to their designs and give your body the power to tell its own story. Their effortless and feminine styles complement and flatter the female form on and off the beach. We've rounded up our favorites from Elspiri in a guide to demonstrate the functionality of swimsuits as apparel.
All Seasons Standout Suits
The Chloe One Piece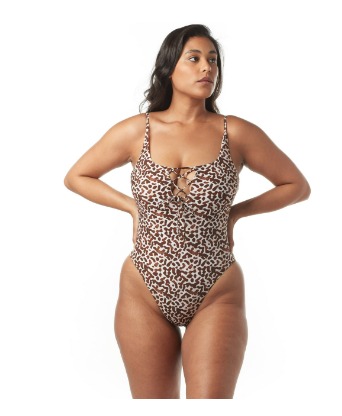 This tie-front one-piece with a low open back is an obvious choice to weave into your fall and winter wardrobes. With its chic silhouette and a lace-up neckline that gives you complete control over the fit for comfort and style, you'll feel completely at ease taking this piece from the beach to a night out.
The Scene: Girls' Night Out
The Outfit: Black denim bootcut jeans, a heeled suede bootie, and a moto jacket styled over the Chloe One Piece.
This outfit is fun, flirty, and sure to be a staple. And better yet, choose from three colors to match your mood. Feeling confident? Chloe in Sorbet will have you looking radiant. Bold? Chloe in Bougainvillea is the choice for you. Sultry? Try Chloe in Animal. No matter your preference, the Chloe One Piece is a versatile choice for wherever the night takes you.
The Alexandra One Piece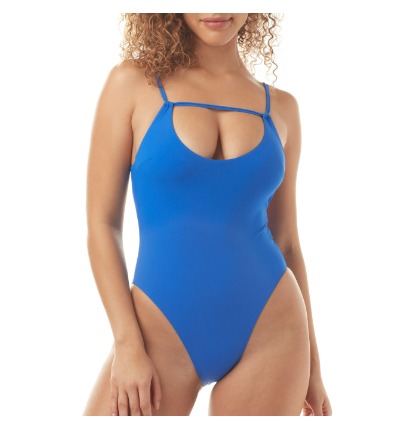 At first glance? A simple scoop neck bodysuit in a vibrant blue shade. But this suit comes with a few surprises – the low, lace-up back. But that's not all – wear this suit two ways: classic scoop or flip the second halter strap to the front of your body to accentuate your décolletage. The simplicity of the Alexandra One Piece makes it the optimal base for layering, but its versatility ensures your styling is never boring.
The Scene: Everyday Streetwear
The Outfit: A super crop sweater layered over the Alexandra in Greece Blue bodysuit, boyfriend jeans, a leather belt, and sneakers
This casual, everyday look is the perfect example of playing into trends without purchasing a new wardrobe as the trend cycles ebb and flow. Style high-quality foundational pieces (in this case, the Alexandra One Piece) with a trendier item like the super crop sweater to feel "on trend" while staying true to your core, personal style.
All Seasons Suits: From Cover-Up to Dress-Up, The Elena Shirtdress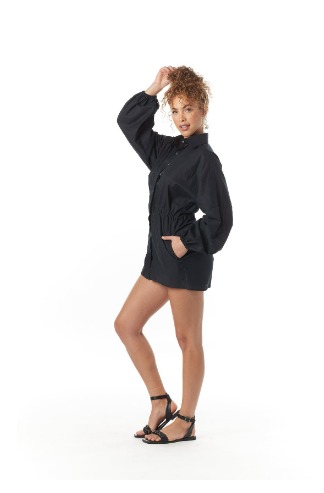 Don't let swimsuits have all the fun! Your go-to cover-up may also have the potential to transition into fall. Worn open, the Elena Shirtdress was your favorite cover-up for the beach but buttoned up. She'll make the perfect date-night dress.
The Scene: Date night
The Outfit: The Elena Shirt Dress layered with a slip, a leather heeled knee boot, and sheer tights
Its unique bishop-style sleeves make the Elena Dress a stand-out style, but our favorite feature? The pockets. Will this soft, breathable dress be your next LBD of choice for date night?
We don't believe in summer-only swimsuits – and neither should you! Elspiri Swim allows you to take your swimsuits from the sun to the street to dinner with various styles that can be worn during any season. These versatile pieces will always elevate your look with their high-quality, classic cuts and colors.
Their adjustable designs ensure that the fit is right – no matter your body type. For a wardrobe full of quality, season-defying pieces, visit us and shop for swimwear that you can wear all year long!
*written by Juanita Carmet from Elspiri
Editor's Note: The opinions expressed here by Fashinnovation's columnists are their own, not those of Fashinnovation.
Don't forget to check this article: Creativity: what happens when a fashion designer falls in love with a patternmaker?