TikTok is currently one of the most popular social media platforms among Generation Z. From cultivating trends that sell out in stores, whether it is food, clothing, new dances, or comedy skits, TikTok influencers have a huge impact on consumer choices and social media marketing. In addition, TikTok influencers have helped luxury brands appeal to Gen Z on the app.
In this article, we will be interviewing Ana Dalcolmo who is an Influencer and Social Media Expert for beauty and fashion brands. We will also be discussing the TikTok influencer marketing boom in luxury fashion on TikTok.
Dalcolmo will also be a speaker at our 5th Fashinnovation Worldwide Talks premiering on September 9, 2021. Please make sure to register, don't miss out on our upcoming event!
Understanding The Power Of TikTok Influencers
Among the world's top apps in 2020, TikTok boasted 315 million downloads at the end of Q1 – far exceeding any app's prior quarter, according to Wallaroo. In addition to the rapid growth of users come the rise of TikTok Influencers.
According to Talking Influence, TikTok is the second platform (behind Instagram) for influencer marketing. With one viral video, anyone could become an overnight TikTok Influencer with the app's help.
Bella Poarch is a TikTok influencer with 78.9 million followers. Many believe that her popularity stems from an overnight success TikTok of her lip-synching to, "M to the B" by Millie B.
Currently, Poarch is the record holder for the most likes on her overnight success video. She has appeared in various ad campaigns on TikTok that range from the #MonclerBubbleUp (which also included TikTok Influencer Charli D'Amelio) to a limited clothing collection with RIPNDIP.
TikTok has become a great source of marketing for any business to reach larger audiences and different users. New artists, businesses, musicians, and young fashion designers are being discovered every day.
Luxury Brands Are Just Catching Up With Gen Z
Luxury brands such as Louis Vuitton, Moncler, Gucci, and others were slow to join the TikTok bandwagon.
In order to catch up, many brands have signed influencers to be a part of their campaigns. By doing so, the brands are gaining millions of followers, generating views, and sales.
Fast fashion brands such as Pretty Little Thing and FashionNova surpassed these luxury brands in followers. According to Glossy, fast fashion brands have become the most prominent presence among fashion brands on TikTok.
In order to gain followers and promote their products on the app, luxury brands also needed to get their name and products out on everyone's "For You" page. The most popular TikTok influencers were gifted expensive items, and some were offered to be ambassadors for their brand.
TikTok has sparked major headlines around the world when it comes to TikTok influencers. From the buzz about the newest trends, and blowing up small businesses. Regular companies are even offering full-time jobs, just to manage the social media app to keep up with the latest trends to promote their brands.
Overall, TikTok influencers are making headlines around the world, and some are entering a new realm in the world of luxury fashion with their social media fame.
Keep reading to understand more about it!
Luxury Brands New Generation Of TikTok Influencers Marketing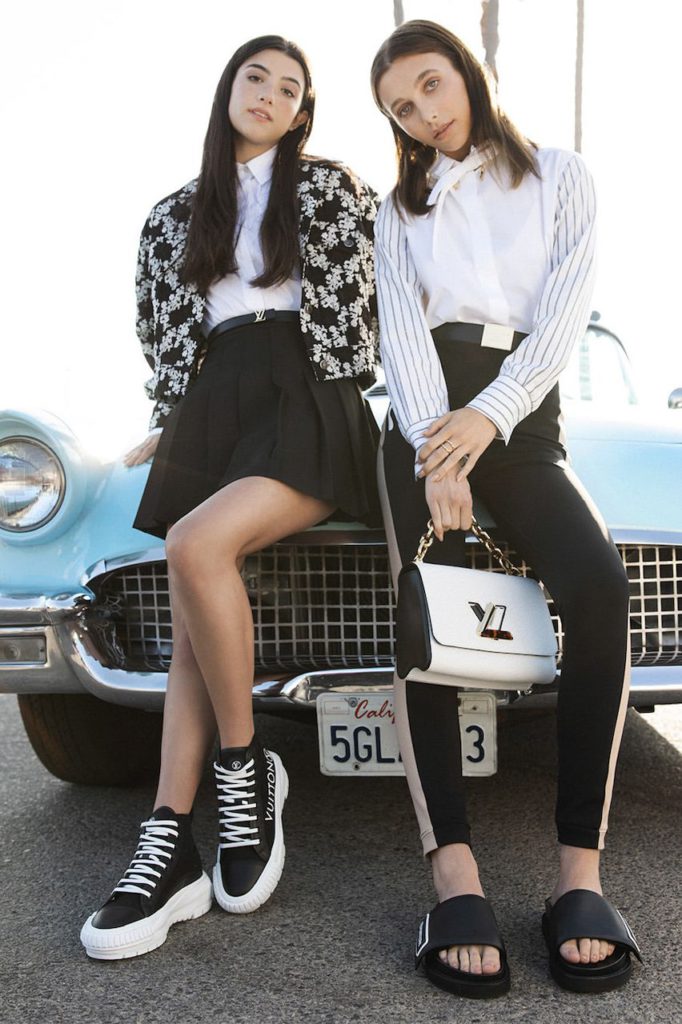 Social media superstar Emma Chamberlain and TikTok influencer Charli D'Amelio were recently featured for Louis Vuitton's new footwear campaign.
Louis Vuitton is constantly improving its technology in its products and advertisements while maintaining traditional brand values. Dalcolmo says that TikTok is the app right now for any business to experiment with.

"Everybody is using it. (in reference to TikTok), Everybody is consuming it and as a brand (Louis Vuitton) is very traditional, but also very technological. It is like they are trying to adapt, and they are trying to insert themselves their way in this. So I think it is very interesting and very, very clever", Dalcolmo stated.
Featured on D'Amelio is the LV Squad Sneaker Boot and on Chamberlain is the LV Sunset Flat Comfort Mule. The two influencers come from different platforms but are joined together in this LV campaign to promote the brand.
Louis Vuitton is a well-known brand across the globe, as they are most known for their iconic handbags. The brand celebrates its 200th anniversary this year and is estimated at $47.2 billion dollars, according to Forbes.
Louis Vuitton and Social Media Influencers
The brand has partnered with many influencers for past sponsorships including Chamberlain a couple of times in the past, and Youtubers Ethan and Grayson Dolan. The term, "Influencer marketing" is a type of social media marketing that usually involves endorsements and product placements, according to Influencer Marketing Hub.
With all the collaborations with social media influencers, Louis Vuitton has successfully taken over TikTok and other social platforms with influencers modeling for their campaigns.
With this type of exposure to TikTok, where most of its users are younger, Dalcolmo states, "​​I 100% think they [younger users] will change their perspective on the buying based off what their favorite creators are promoting".
Influencers are highly counted on for online marketing by brands in this day and age. By featuring Chamberlin and D'Amelio in a Louis Vuitton ad campaign, their younger audiences will remember the brand.
According to Dalcolmo "I feel like Louis Vuitton is trying to create this desire because they know that these [young] people cannot buy. But in a few years when they are stable with their lives, they will be like. "Yes! I want to buy LV". They are playing the long game."
TikTok Influencers Promoting Luxury Fashion
Charli D'Amelio is a 17-year-old TikTok influencer and the most followed person on the app with 122.6 million followers. The New York Times dubbed D'Amelio, "the reigning queen of TikTok" because she is the first and only TikToker with over 100 million followers.
D'Amelio is a normal teenage girl from Norwalk, Connecticut who loves to dance. That hobby made her very popular and relatable to many around the world.
Ana Dalcolmo states that "You don't have to be the super-smart, the super pretty, or the talented dancer. You can just be you and still be a celebrity and famous. I think that's why TikTok is so big right now. It is because people can relate to the celebrities like Dixie, Charli, and Noah Beck."
In 2020, Charli was invited to sit front row at Prada's FW20 in Milan.
A year later her sister Dixie, who is also a popular TikTok influencer, was invited to the virtual Chanel Spring Summer 2021 RTW fashion show. In which she featured on her TikTok channel and a full video on her Youtube account.
From D'Amelio's collaboration with makeup brand Morphe 2, Takis, and Dunkin' who
serves her signature drink called, "The Charli," the brand deals and collaborations with D'Amelio are endless for this teenager.
Emma Chamberlain is a 20-year-old Youtube sensation and fashion icon to many Gen-Zers. She has over 10.5 million subscribers on her YouTube channel. Meanwhile, Chamberlain is also been a veteran ambassador of Louis Vuitton since 2019.'
The New Marketing and Its Impact
With impressionable followers, these influencers successfully made headlines around the world with their features in Louis Vuitton ad campaigns.
With Louis Vuitton's efforts to keep up with younger generations, there is no doubt that the luxury brand will be featuring more popular influencers in their campaigns. And, the strategy to appeal to younger audiences using the trendy apps might bring fruitful results for company profits.
Recently, Louis Vuitton has collaborated with the Korean boy band, BTS. They are the ambassadors of the brand. The boyband has generated hundreds of millions of views on Louis Vuitton's TikTok channel.
Ana Dalcolmo's Career In Social Media And Advertising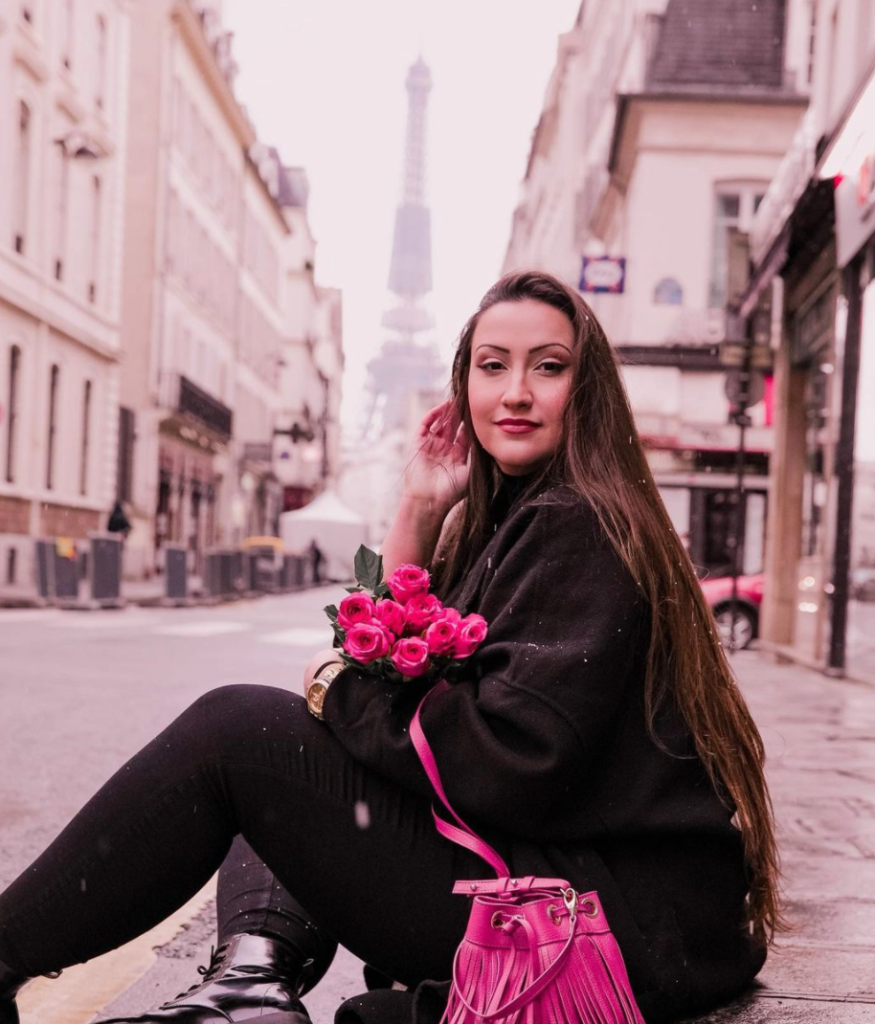 Ana Dalcolmo's dream was always to live in Paris. She was born and raised in Brazil, in a city called Vitória. Dalcolmo always wanted to pursue a career in fashion and with the help of social media (Instagram to be exact), she found her calling in life.
Dalcolmo decided that it was time to pursue a master's degree in fashion and finally was able to live out her dream. "You know, Emily in Paris? Yeah, so that is kind of like my life. I moved to Paris in September of 2017."
When Dalcolmo moved to Paris, she never intended to become an influencer. "I only had like 1,200 followers. I was posting my life, my studies, and everything, and it started growing like crazy. So I don't think there was a moment that I stopped and was like, 'I want to become an influencer. It was just one day I woke up, and I realized I had 10,000 followers. I was like, Whoa, something is happening here. I can do something about it. It is also my specialty because I graduated in advertising and specialized in social media for fashion and beauty."
Dalcolmo pursued her master's program at Istituto Marangoni and fell in love with the world of social media. Now, she manages a plethora of clients, being a social media expert on beauty and fashion, while also creating content for her own Instagram account.
Social Media has changed the way brands and customers relate. Learn everything about Social Media Marketing!