FASHINNOVATION's New York City Business Mission, held from September 5th to September 9th, brought together a select group of entrepreneurs, creative minds, and business executives from around the world to explore the dynamic and ever-changing fashion industry.
This immersive experience allowed participants to connect with industry leaders, gain firsthand insights into renowned fashion brands, and foster collaboration within the vibrant New York City business community.
FASHINNOVATION's Core Mission
At the heart of FASHINNOVATION's mission is the belief in the power of communication and relationships. FASHINNOVATION aims to facilitate connections, empower effective communication, and assist its community in achieving their goals and driving growth.
Strong relationships, built through efficient communication, are seen as essential for shaping a brighter future, and FASHINNOVATION is dedicated to helping fashion innovators realize this vision.
Business Mission Day 1: JOOR – Revolutionizing B2B Retail
Pushing Retail into a New World
The Business Mission commenced with a visit to JOOR, the world's leading B2B retail platform. JOOR has transformed the sales process by digitizing it, creating a seamless experience for both brands and customers. Their platform fosters collaboration among brands, bringing partners together to drive global growth.
During the visit to JOOR, the group met with senior executives who shared insights into the platform's future projects. JOOR's commitment to partnering with brands, both large and small, was evident. The company is also developing simplified versions of the platform to support smaller businesses in their growth journey.
Business Mission Day 1: DVF – A Blend of Tradition and Entrepreneurship
Startup Mind Mixed with Tradition
The Business Mission continued with a visit to Diane von Furstenberg (DVF), a brand that has made its mark in the fashion industry with its iconic wrap dress. DVF embraces an entrepreneurial spirit while maintaining a deep connection to its heritage.
Senior directors at DVF shed light on the company's unique approach. Despite its success, DVF operates with a startup mentality, and every design is personally approved by Diane von Furstenberg herself, highlighting the brand's commitment to excellence and tradition.
Business Mission Day 2: 9th Worldwide Talks – Exploring Fashion, Technology, and Sustainability
Innovation and Collaboration at Worldwide Talks
The group participated in the 9th Edition of the Worldwide Talks, an event that brought together industry players to discuss fashion, technology, sustainability, and innovation. The event featured notable speakers and opportunities for networking.
The event featured influential speakers who shared their insights into the ever-evolving fashion landscape. It also provided a platform for fashion brands committed to sustainability and innovation to showcase their work.
Want to learn more about the 9th Worldwide Talks? Make sure to watch the whole talk on demand.
Business Mission Day 3: FIT Dtech Lab – Bridging Academia and the Market
Innovation Is Education
The Business Mission took a detour to the Fashion Institute of Technology's Dtech Lab, where students collaborate with industry partners to tackle various challenges. Leveraging innovative approaches, the lab aims to bridge the gap between academia and the market.
The group learned about the lab's partnership with rapper Ludacris to create a children's streetwear brand, illustrating how creativity and education can intersect to produce innovative solutions.
Business Mission Day 3: TOD's – Embracing Timeless Tradition
Strength in Timeless Tradition
TOD's, a traditional Italian shoe and accessories brand, was the next stop on the Business Mission. The brand's commitment to timeless designs and artisanal craftsmanship sets it apart in an industry marked by fleeting trends.
TOD's CEO shared the brand's strategy of focusing on enduring designs over fleeting trends, resulting in sustained profitability. The commitment to timeless tradition has been instrumental in TOD's success.
Business Mission Day 4: WindowsWear – A New Dimension of Retail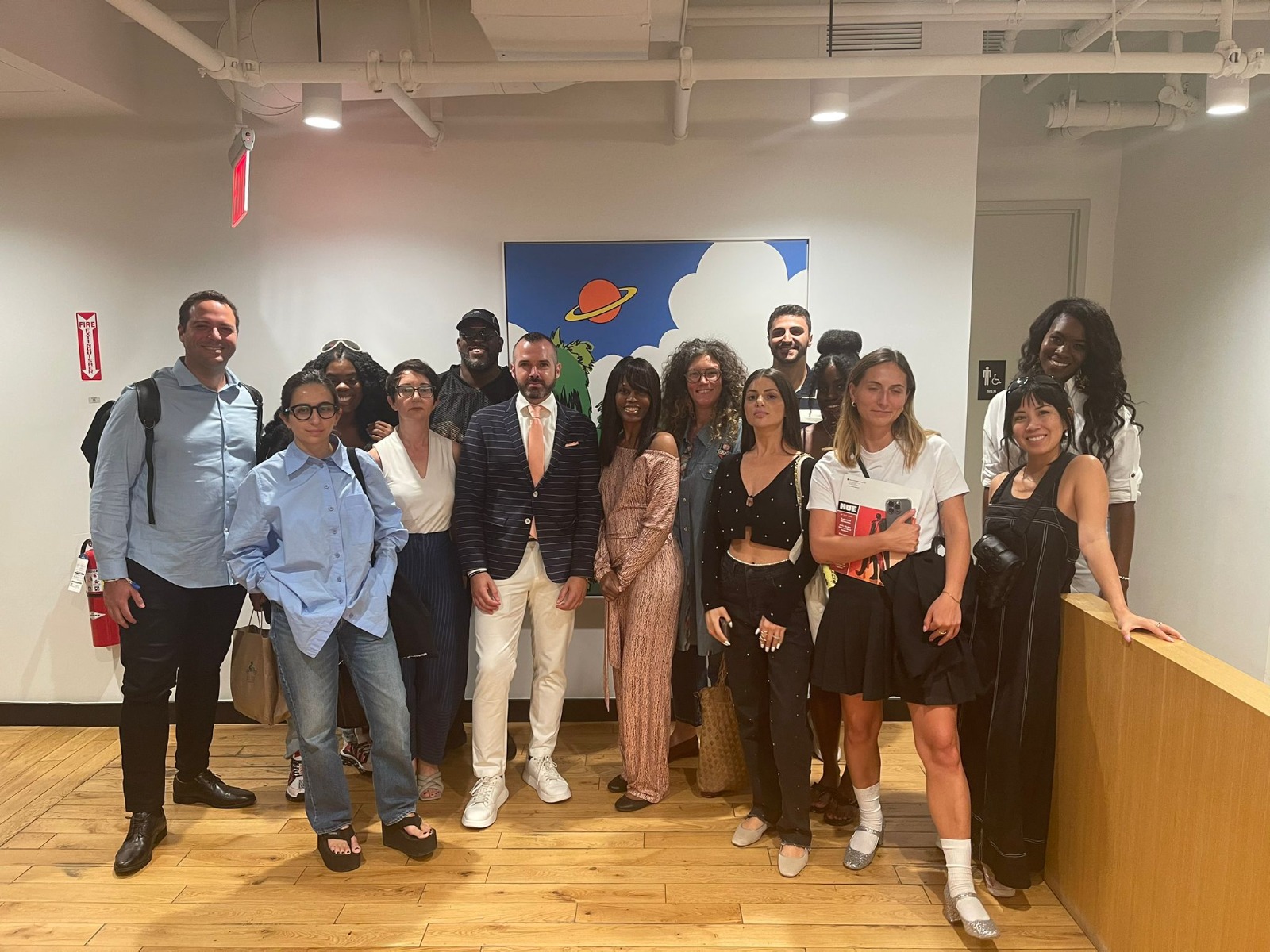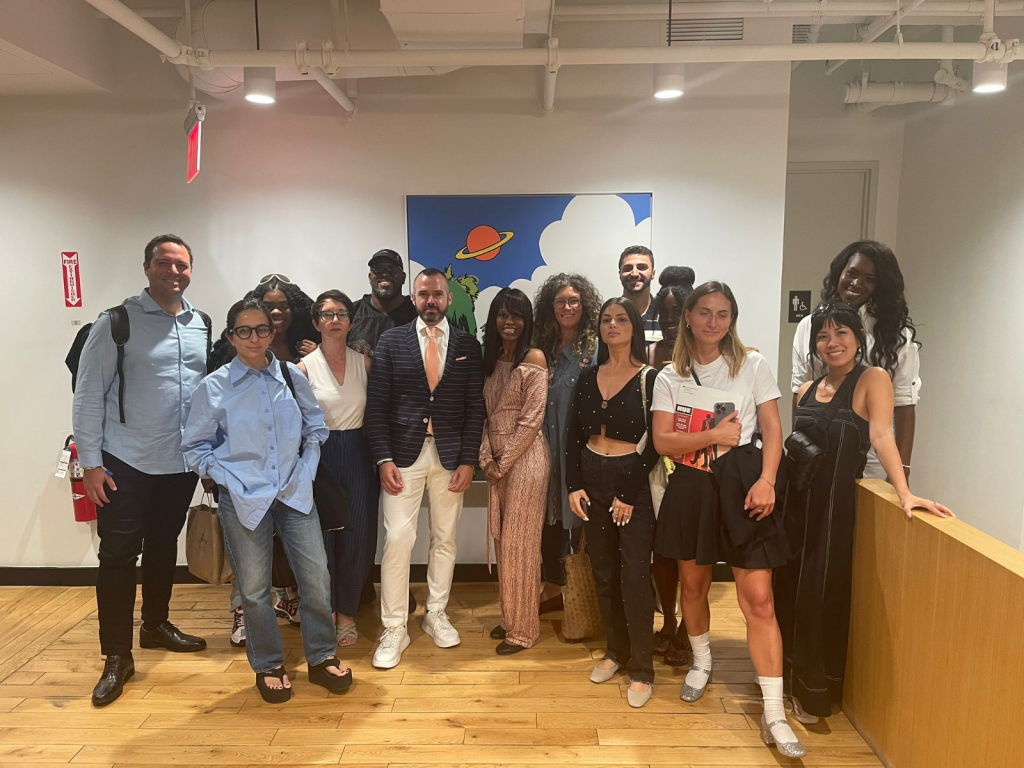 A New Way to Approach Retail
The group met Jon Harari, CEO and co-founder of WindowsWear, a platform that offers a digital archive of storefronts, window displays, and retail interiors. WindowsWear has revolutionized how fashion professionals explore and draw inspiration from visual merchandising and store design.
The conversation highlighted the connection between personal relationships and business growth, demonstrating how connections can open doors in the fashion industry. It also delved into the history of the fashion industry in New York.
Business Mission Day 4: Vera Wang and Keith Lissner – A Fashion Journey
On the 4th day of FASHINNOVATION's Business Mission, the group met Keith Lissner, Executive VP of Design at Vera Wang. Keith, a standout from "Project Runway," is a renowned fashion designer celebrated for his fusion of modern aesthetics with classic elegance.
Keith's own label, "Keith Lissner," is a testament to his creative vision, making waves in the industry and gracing major fashion runways. His passion for crafting unique and timeless fashion pieces has left an indelible mark on the fashion world.
Inspiring Work Ethic
Keith's journey inspired the group, emphasizing the value of hard work and resilience. He shared how he transitioned from his own brand to pursue his true calling in women's fashion, a testament to his dedication and unwavering pursuit of his goals.
Business Mission Day 4: Nicole Miller – Celebrating Art-Inspired Fashion
Creating Your Own Niche
The group visited Nicole Miller, a brand known for its eclectic, art-inspired creations. Nicole Miller's designs celebrate individuality and self-expression while committing to sustainability.
Nicole Miller herself shared her inspiration, drawing from her inner woman and the balance between modesty and a hint of rebellion. The brand's SS24 Signature collection, rooted in sustainability, was also showcased.
Business Mission Day 4: Lunch with J.Crew & Madewell – Social Responsibility in Fashion
Embracing Social Responsibility
Lunch with Gonzalo Pertile, Director of Corporate Social Responsibility at J.Crew & Madewell, highlighted the importance of social responsibility in the fashion industry.
J.Crew and Madewell's commitment to ethical sourcing and sustainability practices was emphasized. The brands aim to make a positive impact on the fashion industry by upholding high ethical standards in their supply chains.
Business Mission Day 4: Lectra – Pioneering Fashion Innovation
Bringing Fashion into the Future
Aimee Heuschkel, Marketing Director at Lectra, provided insights into Lectra's role in fashion innovation. The company offers cutting-edge solutions, from design to manufacturing.
Lectra's "Fashion on Demand" feature and micro-factory tour demonstrated the company's commitment to pushing the boundaries of fashion production. The group gained a glimpse into the future of clothing production.
Business Mission Day 5: Alice + Olivia – Femininity, Vintage, and Empowerment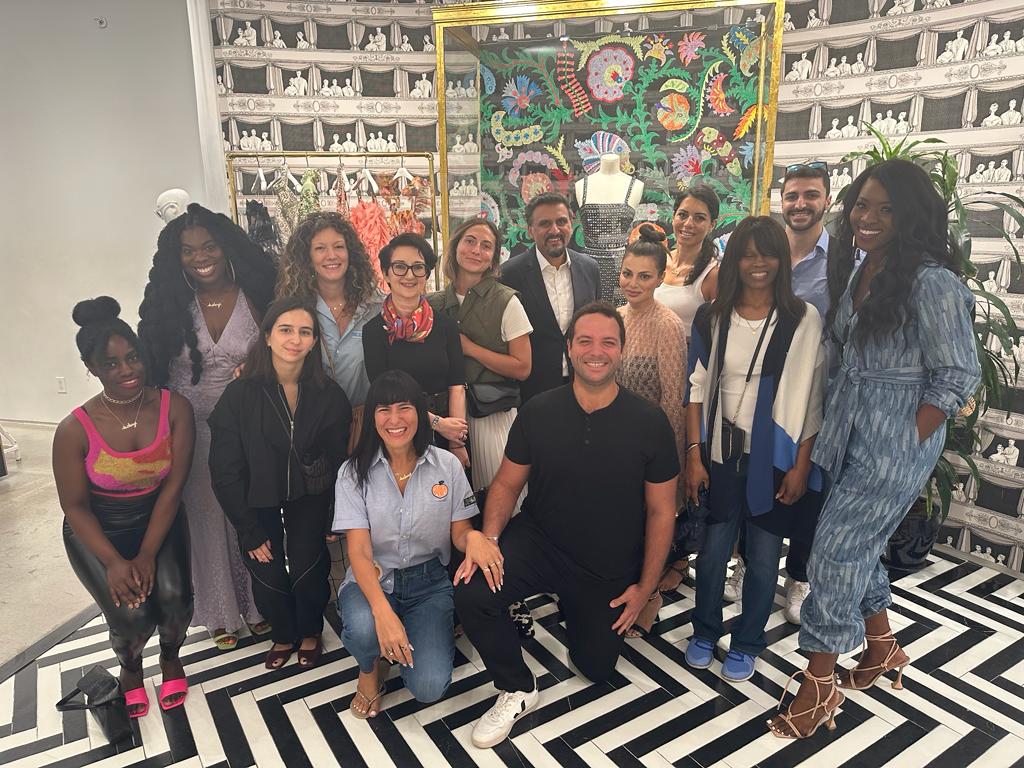 The Perfect Marriage Between Femininity and Sophistication
The Business Mission's last day started with a visit to Alice + Olivia, a brand celebrating femininity and vintage-inspired fashion founded by Stacey Bendet.
Deepak Sharma, Senior Vice President for Asia, discussed the brand's expansion into the Asian market and the challenges of catering to diverse sizing needs. Sustainability and empowerment remain core values for the brand.
Business Mission Day 5: Armando Cabral – Innovating with African Heritage
Honoring Roots with Innovation
The final company on the Business Mission was Armando Cabral, a brand that combines innovation and technology with the richness of African heritage.
Armando Cabral emphasized the importance of showcasing African culture and supporting brands that uplift African heritage. The brand's commitment to sustainability and craftsmanship was also highlighted.
FASHINNOVATION's New York Business Mission provided a unique opportunity for entrepreneurs and fashion professionals to immerse themselves in the dynamic world of fashion.
The mission celebrated innovation, tradition, sustainability, and social responsibility, all while fostering collaboration among industry players. As the fashion industry continues to evolve, FASHINNOVATION remains committed to connecting creative minds and empowering them to shape a brighter future for fashion.
Do you have a brand and are interested in joining the next FASHINNOVATION Business Mission? Make sure to register for the Paris and New York editions!
Want to get to know more about the other Business Missions? Check out PARIS BUSINESS MISSION: CONNECTING EXECUTIVES, FOUNDERS & ENTREPRENEURS GLOBALLY