For the 9th Edition of the Worldwide Talks, the FASHINNOVATION team had the pleasure of staying at one of New York's finest hotels: the Yotel.
The Yotel is a hotel chain that started in Europe and is known for its support to workers and entrepreneurs. Their love for innovation also reaches the ultimate goal: sustainability.
In this article, we'll get to know more about this amazing accommodation and how it has been helping business people all over the world. Let's dive in?
Yotel: A legacy built on helping others achieve their goals
The famous hotel chain actually started with units inside airports where they would provide business people with rooms to stay in between trips.
If you were traveling for business, you could rent a room for a couple of hours and get some rest before catching your next flight.
Through ideas like this, Yotel built a strong brand that is all about efficiency and productivity. If you're looking for a place to rest and get ready to get the job done, Yotel is the place for you.
Yotel believes in challenging the status quo and embracing change because change pushes people into their best versions.
Yotel: There can't be efficiency without sustainability
Yotel's connection to innovation and entrepreneurship is also present in their relationship with sustainability.
When you check into a room, you receive a reusable water bottle that you can refill with tap water instead of constantly getting a new plastic bottle. For those who don't like tap water, they also offer Boxed Water, keeping things plastic-free.
They also have a policy of not cleaning the rooms without demand in order to reduce water waste and laundering impacts.
We all know that sustainability is also related to defending human rights and equality. Yotel is a strong supporter of human rights movements and has always made it one of its fronts sharing knowledge.
In their blog, you can find several articles featuring LGBTQ+ representatives and celebrating women's rights.
Yotel: A Dreamland in the middle of New York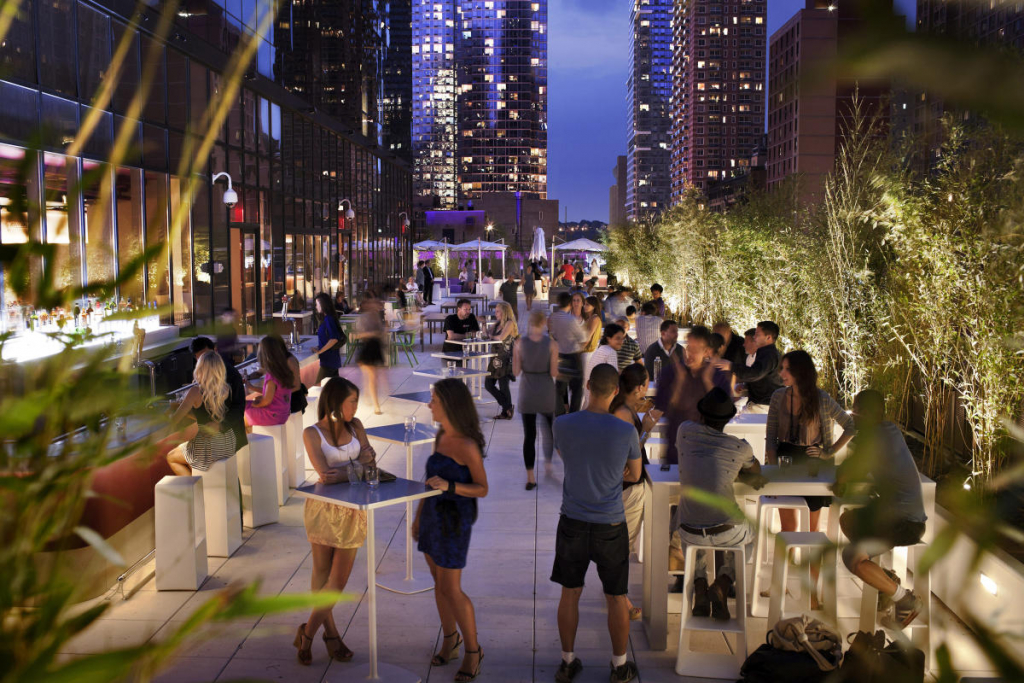 Situated in the heart of Midtown Manhattan, YOTEL New York Times Square provides easy access to the finest entertainment, dining, and shopping options the city has to offer.
Just a stone's throw away, you'll find iconic destinations like Times Square and the nearby Hudson Yards. This central location makes it incredibly convenient for exploring Manhattan.
You can effortlessly stroll to catch a Broadway show, savor a delicious meal in Hell's Kitchen, or attend a conference at the Javits Center.
The hotel boasts a variety of room types designed to cater to every guest, budget, and occasion. Yotel's accommodations feature the distinctive SmartBed, which can be adjusted to ensure a comfortable experience whether you're sleeping, working, or simply unwinding.
Non Stop Events
In the spirit of keeping things hot and agile, the chain hosts Non-Stop events to engage their guests. Whether it is a make-your-own cocktail night or Frozen Yogurt Friday at the hotel's rooftop, guests can enjoy different fun events to take off the edge, even during quick business trips. 
During the summer, Yotel created a four-month Non-Stop festival to enhance the guest experience during incredible sunny days. The YOFest had different activities, such as bottomless brunch and canal parties.
To learn more about Yotel, check out their website. 
Read Next
Like this article? Read these ones next:
9TH WORLDWIDE TALKS: A BREATH OF INNOVATION, SUSTAINABILITY, AND INCLUSIVITY TOUCHES DOWN AT FASHINNOVATION
FASHION TALKS 2023: UNVEILING THE STYLE CONVERSATIONS OF THE YEAR
TRY FASHION DESIGN AI WITH RESLEEVE FOR FREE!
If you like fashion and innovation content, make sure to follow FASHINNOVATION on Instagram!